Blog
Afterwork Madrid, an emotional meeting
For two years that Mumbai Smiles has had a presence in Madrid, it had not been possible to hold a face-to-face meeting without restrictions due to CVID-19, with our collaborating partners, donors and friends in general. In these two intense years we have had to face a pandemic, two emergencies due to CVID-19 in India and another emergency due to the war in Ukraine. That is why we wanted so much to meet, to hug each other and above all to thank our social base in Madrid for their permanent support.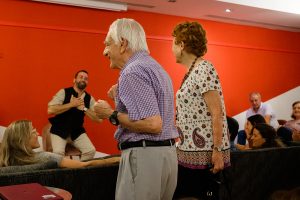 On September 22 we had an extra reason to celebrate this meeting. And it is that the day before we had received the Chicote Award for the Best NGO 2022, in a gala with many familiar faces of Madrid's artistic social life(See the press acknowledgment).
The Afterwork was in a relaxed talk with Jaume Sanllorente, founder and General Director of Mumbai Smiles, in which more than 50 people who attended the event had the opportunity to ask questions and take an interest in our work in India and in other countries. There was also time for a solidarity raffle, in which we raffled off three gift packs, courtesy of the Alcaravea restaurant and the Mar Aesthetic Center. Apart from a pack with Mumbai Smiles products. Agustín and Mari Carmen, Carlos and Marta were the winners of the awards. We hope you enjoyed the gifts!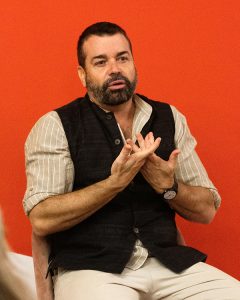 The most exciting moment of the afternoon took place when Jaume Sanllorente made known our work in rescuing victims and survivors of trafficking. Precisely on that day we launched a crowdfunding campaign on Migranodearena.org to rescue 20 girls from human trafficking networks.
At the end of the meeting we toast to the new and exciting challenges that lie ahead at Mumbai Smiles, in which we count on all of you, as always.
Thank you all for your support!
Thanks to hotel Dormirdecine for the facilities to carry out this act.
Photo Credit: Nacho G. Hermoso (@iamnachal)
Comentarios