Blog
Sant Jordi 2022 against human trafficking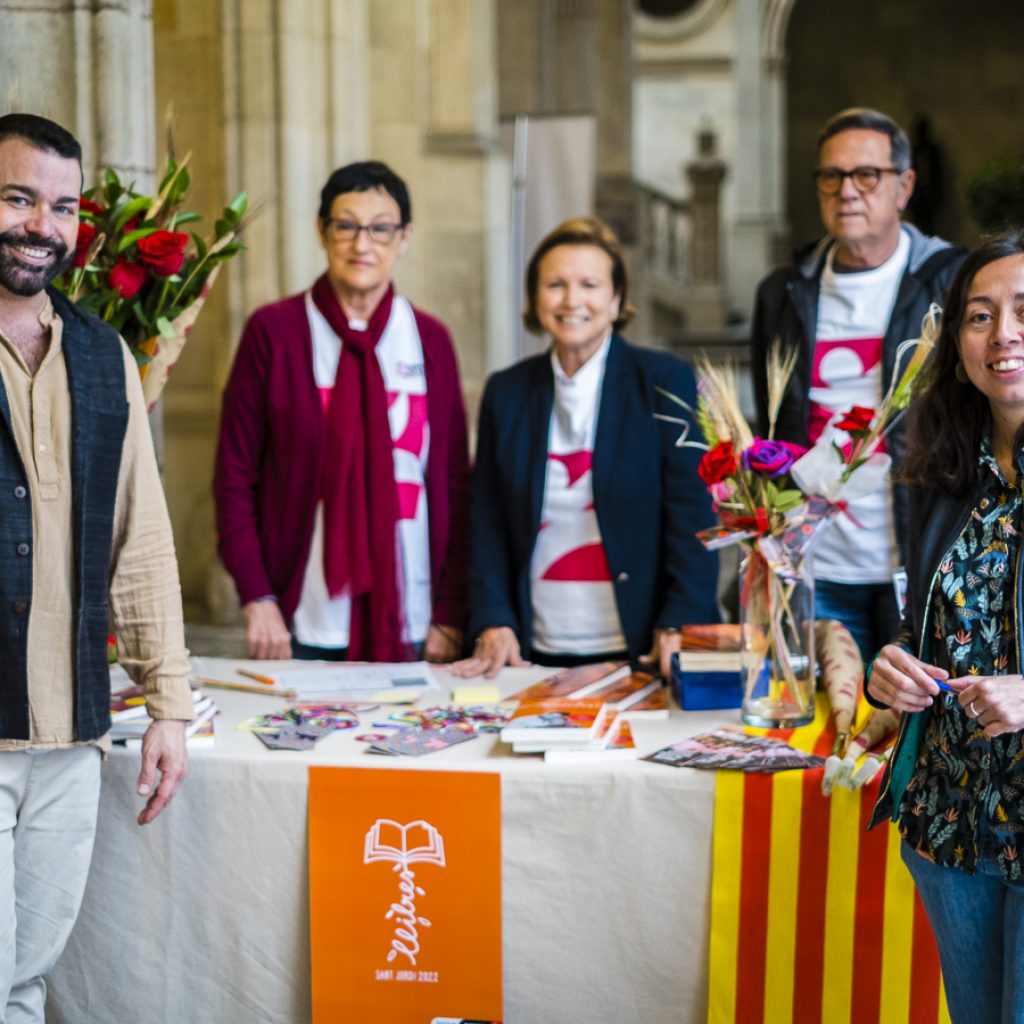 On April 23, after two years without being able to celebrate the Day as we like to do it, Mumbai Smiles returned to the streets to offer you the fabric roses made by women survivors of human trafficking under the slogan "This is not (just) a rose."
For the Foundation, this day has become an opportunity to celebrate the love that crosses borders and that generates new opportunities for the future of one of the most vulnerable and invisible groups with which we work, women survivors of human trafficking.
These women live in the Udaan shelter. This center of the Foundation has been accompanying women for more than a year who have managed to leave behind a past of sexual exploitation and abuse, and who currently work daily to heal their physical and mental wounds and to train and develop skills that help them have an autonomous, free and dignified future. They have made these fabric roses in a traditional way with all the love and care as part of their recovery process.
As in previous years, we try to have a presence with our solidarity product stalls in various locations where this day is especially celebrated. On this occasion, we were in Barcelona (with two stands, one of them in the courtyard at the entrance to the City Hall and the other on Rambla Catalunya), Tarragona y Sabadell, and we also had a solidarity rose and book stand in Madrid, at the Moyano slope. Despite the fact that the weather did not accompany the day, the day passed with a great atmosphere and a good influx of public.

To close the day, at our main stand on Rambla Catalunya in Barcelona, Jaume Sanllorente, our founder and General Director, spent two hours signing books for all those people who, despite the rain, came to say hello or meet him.
We take this opportunity to thank the great team of volunteers who, once again this year, with their effort, enthusiasm and commitment to Mumbai Smiles, made it possible for Sant Jordi's Day to be a real success full of joy. But from here, we want to thank the volunteer team for their effort, not only on the 23rd, but also the previous weeks, in which they were working in our office putting labels, decorating the roses so that they would be beautiful and supporting the logistics so that all the Rose orders will arrive at their final destination on time.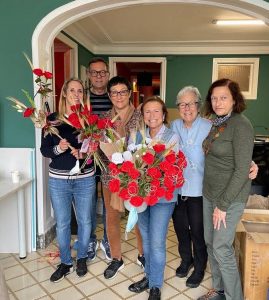 Likewise, we were very lucky to have numerous companies that joined our proposal to acquire solidarity roses to fight against human trafficking. A thousand thanks to all of them for this nice gesture: in Barcelona ( Media Markt Plaça Catalunya,  Etnia Barcelona, Captrain España, DBI Commercial Europe, Llibrería Alibri, YogaOne Aragó/Eixample, YogaOne La Milagrosa, YogaOne Sants, Back Stage Bcn), L'Hospitalet de Llobregat (YogaOne L'Hospitalet), Esplugues de Llobregat (YogaOne Esplugues), Cornellà de Llobregat (YogaOne Cornellà), Vilanova i la Geltrú (YogaOne Vilanova),  Vilanova del Camí (Associacio Vilanova Comerç), Girona (La Caixeta, La Perruqueria), Reus (YogaOne Reus), VIC (Publicitat Montseny).
In addition, again this year, the company PageGroup Europe SL   bought roses that were destined for two old age homes (Amavir Horta y Amavir Diagonal) so that they could also enjoy Sant Jordi.
And we also thank the schools that have organized a solidarity Sant Jordi:  Rossend Montané (Sant Pere Molanta), Colegio y AFA Els Pins (Cornellà de Llobregat), Escuela La Miranda (Sant Just Desvern), Colegio IPSE y Escuela Sadako (Barcelona).
The result of this beautiful celebration has been 3,000 roses sold and €13,500 raised that will allow us to continue progressing in our fight against human trafficking in the most disadvantaged areas of Asia where we work, such as India, Nepal and Bangladesh, and in parts of Europe. where we have recently started, such as Ukraine.
A big thanks to all the people who made this day possible: volunteers, schools, companies, small businesses, partners, members and collaborators, we look forward to seeing you again next year!
Comentarios