Blog
Interview with Ana Duato before her visit to India
Mumbai Smiles' relationship with actress Ana Duato goes back in year 2012, 11 years ago, when Jaume Sanllorente and Ana met at the Gala against AIDS, held in Barcelona. The connection in that first meeting  both of them, until three years later they met again at another event, in Madrid when Jaume gave a speech during the commemorative ceremony for the 70th anniversary of the United Nations, presided over by Their Majesties the King and Queen of Spain and the UN Secretary General, Ban-Ki-Moon.
In 2015, Ana had already been one of the most well-known and beloved actresses in Spain for many years. Apart from her successful career, Ana Duato has always had an interest in child rights. That year, 2015, was a very important day for Mumbai Smiles, since we were celebrating our 10th anniversary. Among the activities we organized that year was the publication of a book of short stories. Ana Duato was one of the six firms that were invited to write that book (Diez cuentos, Diez sonrisas. Beascoa, 2015).
Now, 11 years after that first meeting and a friendship that has matured, Ana Duato is going to discover the Mumbai Smiles projects on the ground for the first time, thanks to Jaume and the rest of the team. She is going to do it, together with her daughter María Bernardeau. She, at 18 years, already shares with her mother her concern for social causes, as well as her artistic side. Both are going to embark on this adventure with a very clear objective. They want to immerse themselves in a reality that worries and hurts them: human trafficking.
             A smile in the bagckpack
We have called this project "A smile in the backpack", because it is going to be a light luggage trip, but with a very important weight inside: the smiles that we are going to sow. Ana and María are going to tell the problem of human trafficking from their perspective, and with their testimony and the support of society, we will be able to promote and grow our projects to fight against trafficking in India and other parts of Asia.
– Ana, what do you find most interesting about our work?
– Jaume's story, the call he felt to turn against the inequalities he saw on his first trip to Mumbai, was what struck me the most. I have always had a great interest in child rights, and my interest in Mumbai Smiles began when I saw that he had dedicated his life to protecting the most vulnerable children living on the street and offering them education, health care… to cover all the needs of the child. He caught my attention because there are people who have a moment of enlightenment and decide to dedicate their life, take a turn. You have to be very brave for that, and be very clear about it. That he has managed to achieve so much since 2005. It is very striking that he does not do it alone, of course, but with a great team. But there should be more Jaumes around the world.
– You have been an ambassador for our campaign against human trafficking, #breakwithtraffickingta, for two years, and you wanted to take a field trip with us for a long time, why now?
– The impulse and the need arise from the enthusiasm with which Jaume tells about things, from the achievements that are achieved. In the end, all this is figures, data that they tell you and that you listen to carefully and that infect the desire to live it, but to transfer that and be able to transmit it to society, you have to go to the field, see the work. The change that Mumbai Smiles has brought to a community. You have to see it, put a name, face and eyes to those boys and girls. Feel it and then transmit it from within.
– What expectations do you have with this experience, what do you hope to contribute to the cause of the fight against human trafficking?
– Known the work that Mumbai Smiles does and the need for all of us to be aware of a reality that is there, which seems to be far away but is a global need. In the end, when there is a problem, women and children are always the most vulnerable. I really like the concept you use of "modern slavery", because there is exploitation, not only sexual, but also work, organ trafficking, etc. It is disposing of a person's life, and who are always the most vulnerable? Women and children.
– How does Ana Duato like to travel? Is there something that is never missing in your backpack?
– I really love traveling with a backpack. The trips that I have made to India before have been with a backpack, because the suitcase is in the way to move from one place to another. In this case, I will go in very good company because I am going with Mumbai Smiles, and that is a privilege for me and my daughter, to go hand in hand, because you are no longer going as a tourist, you are going to meet real people who live there, and that is a luxury. I like to feel more like a traveler than a tourist. Observant. In my backpack I always carry a book, of course. One of the best trips I remember having taken was in Morocco, where our suitcase was lost and we spent the entire trip with what we were wearing, a toothbrush and the clothes we bought from day to day.
– We know that India is a country that fascinates you. Tell us about your experience so far in this country and what places you know.
– I have been to India twice. The first time I was in Mumbai, and from there we went to Goa and Kerala. We were going with my son, who was very young, and with more families, so when you travel with children you have to have a more controlled trip. And it already seemed to me a wonderful country. My second time was on my 50th birthday, because our production company is called Ganga which we named after after the Ganges river. Miguel Ángel, my husband, is a great lover of India, he has been there many times, he has shot a movie there… We went to the source of the Ganges river with the idea of doing something that is done a lot in India, which is to make an offering, thank you. It was very nice because it was to thank life for all the good things it has brought to us. I wanted to start that trip in Mumbai to learn about the Mumbai Smiles project, but just at that moment Jaume was in Spain for family reasons.
– This trip is going to be very special for you and your daughter, how is she living it?
– María has always wanted to come with me on the trips that I have made with Unicef, but she could not because it seemed a little early. But now that she is 18 years old, she is mature enough to travel and experience other realities. Because it is one thing to travel as a child and another to see other realities, which may be hard and are very different from your life, and that is a gift for her. She has always been very committed and very empathic with vulnerable people, she has always had the initiative to do things for others. María studies Fine Arts, but she also wants to focus on working with children, underprivileged people… she has always followed that line.
– Apart from India, what other places transmit something intense to you or are your favorite places to rest, disconnect or be at home?
– Ugh… the world is very big, and when you start to travel you realize everything you need to know. I can tell you that I would like to travel to any part of the world that is not at war. I am attracted to everyone. And another thing is my resting place, because while traveling, you don't rest. And that place, as a Valencian that I am, my place to disconnect, to think… is always in front of the sea.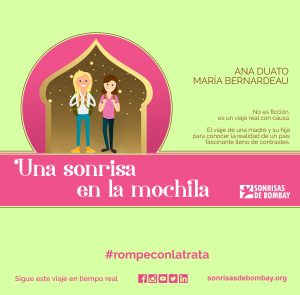 You can follow this journey on the Instagram of @sonrisasdebombay from Thursday, March 30, until April 7.
Comentarios