Blog
Deepti: heal wounds to conquer the future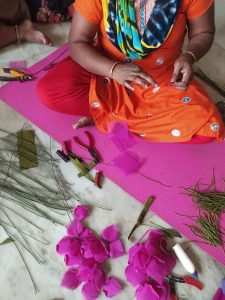 On May 13, the Mumbai Smiles team made it possible to rescue two women from a massage parlor in Virar West in Maharashtra. One of them is married and returned to her husband, who will probably force her into prostitution again. The other, Deepti, is 25 years old and has a twin son and daughter. Since that day, the young woman has been in a center of one of the foundations with which we collaborate in the fight against trafficking. Deepti is much calmer and safer, but above all she wants to fight for her future and that of her children. She told us all this and much more during one of the workshops we have organized to make our handmade roses. In the workshops, women survivors of trafficking learn new skills, while making an object that helps us raise funds for the fight against trafficking. But these spaces are also spaces for personal care, in which stories are shared, which help heal wounds and look forward.
Deepti told us how after getting married, she broke off relations with her family. At first the relationship was going well, but after having her twins, her husband left her. With nothing and not knowing where to go, young Deepti decided to move to Mumbai from Bihar, where she thought it would be easier to find work.
Scared, she landed in Mumbai and a few hours later a woman offered her to work in a massage center, with conditions that would allow her to take care of her children. In desperation she accepted it. It took her less than a day to understand that she was a victim of a trafficking network and that her real job was sexual slavery. Week after week she found no way out of the situation. She left her children locked up at home while she went to work and felt terrible. In fact, when the Mumbai Smiles rescue team arrived with the police at the massage centre, her first demand was that someone go looking for her children.
Since then, Mumbai Smiles has accompanied her on a new path. She is with her children in a reception center where she will have to stay for a year. But Deepti is clear about it: she wants to get ahead and she would like to be part of the Udaan shelter, which we use to provide a shelter to the women, survivors of trafficking. Deepti's goal is to get training and work, and that her children can study. We will certainly do everything possible to make it so.
Deepti insisted on giving a message during our talk: "Young girls must study, they must be independent and not believe in promises of idyllic relationships, which can end in a lot of pain and danger for them and their families."
Thank you Deepti for sharing your experience!
Soon we will launch a new proposal to ensure that more women like Deepti can stop being sexual slaves to have a safe and free life. Stay tuned!
Comentarios