Blog
Natxo Echevarría: Thank You for Everything!
We introduce you to Natxo Echevarría, one more volunteer from our fantastic volunteer team. Natxo is pure enthusiasm and today you will meet him through his interview and understand that this is true.
Natxo, we would like you to introduce yourself:
My name is Natxo Echevarría, I am 45 years old and I live in Barcelona city. Currently I work as a salesperson for a company in Barcelona. I am very happy to say that I studied with Jaume Sanllorente and we were classmates in the school, Reial Monestir de Santa Isabel.
His mother, DEP, was our 3rd grade EGB teacher. So I can say, with great pride, that I knew Jaume from a very young age.
How did you hear about Mumbai Smiles?
I got to know Mumbai Smiles as a result of an interview they did with Jaume in a newspaper, and the news boom began, interviews on TV and radio and Jaume did not stop appearing in the media, and eventually I recognized him.
But the most beautiful part I remember perfectly in the boom of Jaume and Mumbai Smiles is, on one working day I was waiting at the traffic signal of Passeig de Gràcia, I just turned around to see the person standing next to me…and who was that person? Well yes, it was Jaume … he recognized me immediately (we had a really good conversation J).
We gave each other a big hug, and he said to me: Hello Eche !!! (At school I was called "Eche" from Echevarría).
We talked for a while, but Jaume told me that he was in a hurry, since he was going to a radio interview and he told me that if he could he would have invited me one day at his office and that way he would have told me a little about how everything had started and I did so, I went to the office and we talked for a long time and he explained the project to me.
I remember perfectly how after listening to Jaume speak, I got goosebumps and I left the office, really excited and more than convinced that I was going to become a partner, volunteer and whatever it took and more, and here I am now writing these lines for Bombay Smiles.
Since when have you been collaborating with Mumbai Smiles and what is your work?
I don't know exactly the year in which I signed up, but I believe and can already say that I have been a member and volunteer of Mumbai Smiles for many years.
I collaborate every month by contributing a small amount to Mumbai Smiles and whenever there is an event or anything that is organized by the NGO, I don't even think about signing up and collaborating, I just participate.
I think I have never failed to join at Sant Jordi event since I am a member / volunteer, a precious date for me and more when I would be helping Mumbai Smiles at the beautiful stalls that are organized every year and surround myself with lovely people from both, the NGO as well as other partners and volunteers.
I try to do my bit by participating in the actions conducted by the Mumbai Smiles on social networks, posting on Facebook and Instagram since I believe that currently, this helps a lot, and more for a cause as beautiful as Mumbai Smiles.
Thanks to the action conducted by Mumbai Smiles, many friends have shown interest in knowing how they can collaborate so for me, it is a pleasure.
What made you decide to collaborate with us?
As I have mentioned before, the day I met Jaume and he explained the project to me in detail, I saw myself with the moral obligation to help, to do my bit, to make this world a better place and with people like Jaume and NGOs like Mumbai Smiles, I am one of those who thinks that it is still possible.
I remember very well, I have it very etched in my head, the moment when Jaume was in his office, had many photos of Indian children with a big smile and he said pointing towards photos, "Can you help me get more smiles like these? and while writing this I am still getting goosebumps.
I got home, picked up the computer and signed up as a member and volunteer, until today and I hope it will be many more years.
Tell us a story or an activity of our project that has especially impacted you.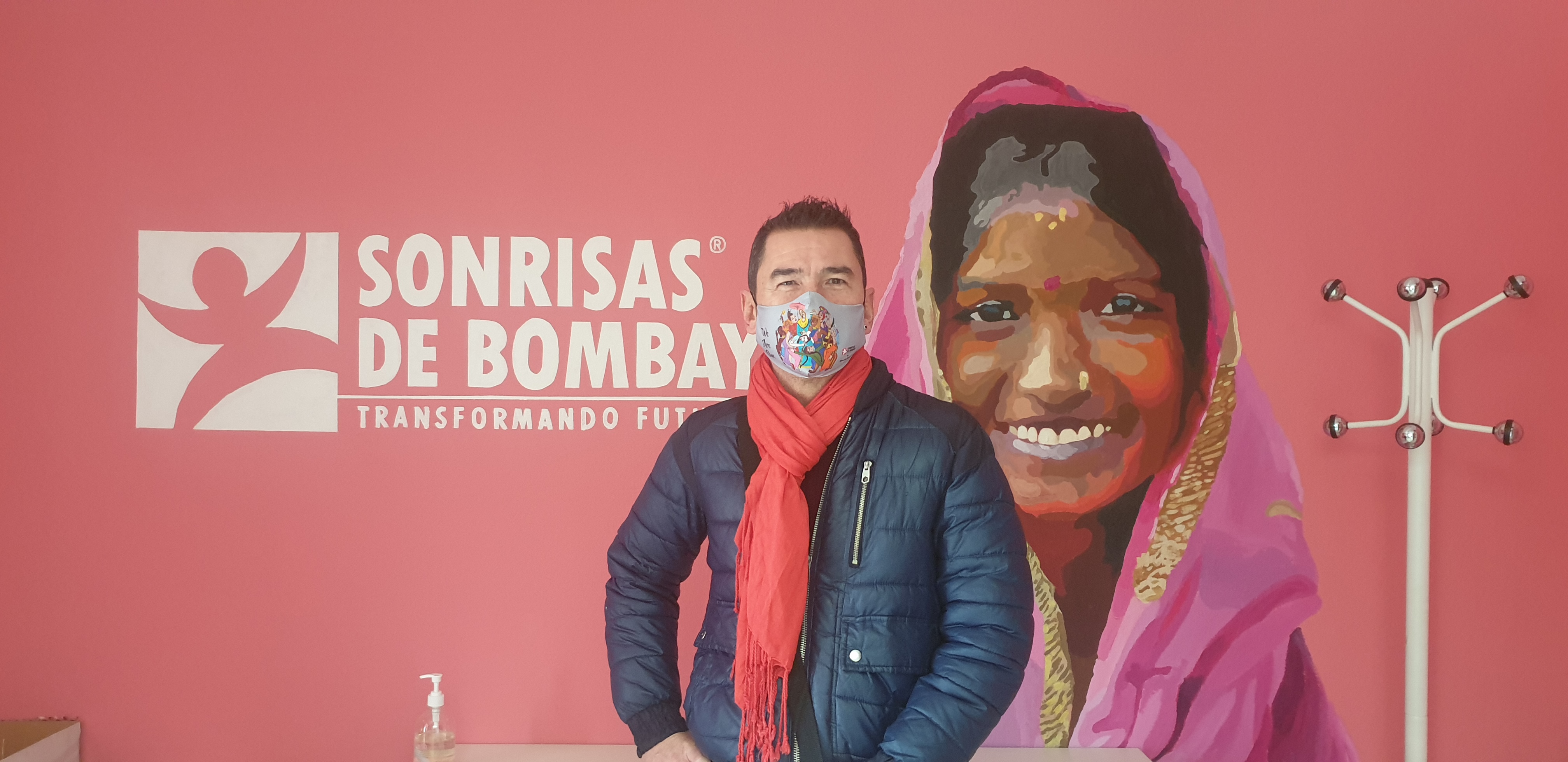 Without a doubt, the help and support that NGO is offering to the girl child of Mumbai. Hearing Jaume explain and after reading his books (I have read them all and I have all of them, dedicated to him) and see, read how it all started, what he has done, what he does and will do for them … it's really impressive, and I want to help with everything and more so that these and more projects get success, and without a doubt… they will!!
What would you highlight from your volunteer experience?
I am proud to be a volunteer with Mumbai Smiles.
For every activity that I contribute towards as a volunteer, I feel really happy and excited and I fly home satisfied carrying with myself the excitement of having participated in the act.
I feel like a better person within, fulfilled and more satisfied. I am already looking forward to another event to be able to sign up and continue helping.
A message for those who have not yet decided to take the step of collaborating with Mumbai Smiles:
That they should not think much and should collaborate with a GREAT NGO who has an exceptional team and they will get 100% peace of mind as their contribution is worth the effort. By collaborating, they will help children (who always have a big smile despite the odds in their life) who have very few resources and are deprived of their basic rights.
Jaume and the Mumbai Smiles are making this world a better place; they are working hard for these people every day. We spend and consume things that we really do not need and it's true!
So I hope that every time the list of volunteers and partners is longer.
Natxo, thank you for everything!
Comentarios