Blog
Maria José Martín is more than a volunteer for Mumbai Smiles…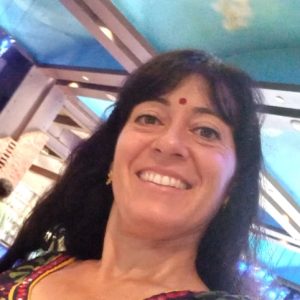 Today we want to introduce you to another fabulous person, who is part of the Mumbai Smiles volunteer team. She is Maria José, a sensitive, excited, dreamy, creative person, but also strong and brave. Do you want to know what her contribution to Mumbai Smiles is? She explains it to you in her own words!
I dedicate my days to  transmitir la sabiduría de la Medicina Ayurveda y del Yoga con mis Consultas, Terapias Naturales y Clases de Yoga Terapéutico. Also, I love travelling and enjoying nature.
Since when you are collaborating with Mumbai Smiles and what are all activities you participated in?
I have been collaborating with Mumbai Smiles for about six years, contributing my bit with solidarity activities of Family Yoga during Christmas or on Yoga Day. I have participated in some events such as the one organized by La Olivella and whenever I can, I do events at the Cervelló and Vallirana Festivals and, of course, I also do solidarity workshops and classes at my center.
How do you know the organization and wat made you become volunteer?
I came to now about the organization through the first book of Jaume Sanllorente, "Mumbai Smiles, the journey that changed my destination", that touched my heart. My great desire to help others and the great commitment and solidarity that I saw from Jaume and his entire team, did not make me hesitate for a moment and I committed to the NGO without hesitation.
Do you think you know India very well, ¿How was your journey to India?
I have always had a passion for visiting India. Its culture, its light, its music, its colors, its aromas, its food and above all, its philosophy and spirituality. Being very young, my love for reading made the book "The City of Joy" by Dominique Lapierre come into my hands one day. I think that was the direct gateway to my soul, to know for sure that sooner or later my life, my way of seeing the world, would always revolve around that wonderful country.
Visiting India is a challenge for me, also giving me the opportunity to get to know myself better. It is immersing yourself in a great ocean of emotions, sensations, mixed feelings, in which everything flows in a very different way than what we are used to in the West. India for me is breathing it, letting go of mental rigidity and feeling it, living it in the depths of my being. I also feel lucky to have been able to have the great opportunity to study Ayurveda Medicine there in person, through the Campus Docent de Sant Joan de Déu. I can only thank all the people who made it possible and the great love I have received.
¿Tell us about Ayurveda? ¿How does it help you?
Ayurveda is a Natural Medicine and also of self-knowledge that endows people with a lot of wisdom. It makes us remember the direct connection we have with nature, to know our rhythms. It reveals to us the power and wonders of food, of healthy habits. It helps to maintain our physical and emotional balance, the importance of quality in our relationships… It also leads us, through the philosophy of Yoga, to breathe, to discover who we are, to feel our inner strength and of course, to share it.
You are very much involved in the NGO activities, even while having family and friends, while running a business like a family hardware store. How can we get involved in collaborating with a project such as that of Mumbai Smiles', while managing a family business or in our daily lives?
It's very easy! We just have to express our desire for solidarity and take action. You can ask yourself: What skills do I have that I can share? These gestures will be vitamins for your heart. We will be amazed at the number of people who join us. I always count on the unconditional help of my family, my parents, for example, are always side by side collaborating with neighbors, friends, their Poetry Club. Looking forward to the solidarity initiatives with great enthusiasm. My partner also in his hardware store always has his solidarity corner where clients, neighbors and friends collaborate with great affection. And of course, always supporting me and helping me in all my initiatives.
Can you share a message for those who haven't yet decided to collaborate with Mumbai Smiles:
A Hindu proverb says: 'You posses only whatever will not be lost in the shipwreck'. We are lucky to have so many opportunities in life. There are people who are not as lucky. I can close my eyes at any moment and see again the intensity of the eyes and the smiles that I have seen in India, even though many people only owned what they were wearing. We are all very busy, but we can always find a little time for selfless action. All our love, affection, energy, collaboration, solidarity comes through the great work that Mumbai Smiles does. I personally know the team and a large part of the volunteers. Magic flows in this great family who is united with the same objective, happy and honored, I feel to be part of it. Will you join us to ignite more Smiles?
Wow Maria José, how nice it is to read everything you think and do: THANK YOU.
Comentarios