Blog
I have decided to be self-sufficient and with this help, I will do it
The fight to be self-sufficient
I am Givina, I was born on January 27, 1999 in a small village in Nepal, Tarkareshwar (Nuwakot). In my family we are 6, my parents and my siblings, 1 brother, 1 sister and me. My father and mother are farmers, but since we don't have enough land for cultivation, my parents have been cultivating other people's fields. But even so, we could hardly cover our most basic needs..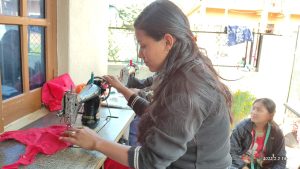 They sent us to a public school because they couldn't pay the costs of the school where we had grown up. I particularly took the change fatally, also being the oldest I had to take care of the household work: I was exhausted and overworked. Finally, with the consent of my parents, I left school to get married and I got married at 20 years.
At that time I wanted to go back to study but my husband didn't want me to do continue my education, what's more, soon after he began to treat me badly, a year later I got pregnant and we had a daughter.
My husband spent time outside and my sister-in-law also began to treat me badly. The situation was very unpleasant and I went to my parents' house.
I had to take care of my daughter, so I also started working in the fields. However, everything was very difficult, in the town everyone was badmouthing me. The situation for me was totally oppressive, until through my sister I found out about the Chhori organization, with which Mumbai Smiles works in Nepal. I was informed and I have been able to participate in the three-month training that they organize to offer future opportunities to girls in difficult situations like me.
I am determined to be self-sufficient and with this support, I will achieve it.
Comentarios