Blog
Emotional Gift – 2020
Emotional Gift, the same says it all. We truly are connected emotionally with this gift. This is for those who always support us in our thick and thin. This gift is for them who are more than our family who have been always there with us at every step that we take to encourage us and make us even stronger than we think we are. Emotional Gift is a small memento for expressing our gratitude towards these special people in our life and it is always something useful and interesting.
We never thought that this year will be so difficult for all of us. We have started working slowly but still the threat of dreadful virus is there. Therefore, we thought that facial masks would be the best gift for our donors to protect them. While thinking of a gift we always prefer these gifts to be made by those people who truly require that work hence, we feel satisfied paying for their efforts and our donors also feel special while receiving this gift.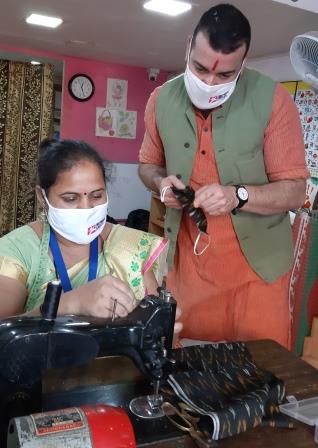 This year we have chosen our livelihood teachers for making cotton 3 layered masks. Since two years Sunita and Rupali have been managing their livelihood preschool in Powai area with the help of Mumbai Smiles team. This year due to the pandemic situation many of the parents lost their jobs and hence could not pay the fees. However, all our teachers continued teaching online. We decided to give a chance to Sunita and Rupali to make masks. They are well versed in stitching. While working with them were pleased to share their stories with us. Both Rupali and Sunita have come from their villages in Mumbai with their husbands.
After completing graduation Rupali got married to Bapu who is a Field Coordinator in Mumbai Smiles. In the beginning Bapu never had a fixed job and income and Rupali had responsibility for a joint family. Being graduate Rupali never tried to look for a job as she was dedicatedly taking care of her in-laws family. However, Bapu and Rupali both were always interested in helping others and spreading awareness of education. Bapu, though being a husband from a conservative family never stopped Rupali from progressing. Bapu's family too supported both of them in their difficult times. Bapu encouraged her to study and start working as a teacher. When Rupali got free from the initial phase of her son's development she joined Mumbai Smiles as a preschool teacher in 2018. During covid-19 lockdown both Rupali and Bapu were taking initiative in their community to provide food and sanitization products provided by the government.
They believe that education and health are the basic areas which need improvement and it has to start within the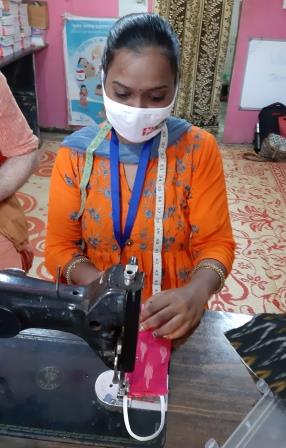 home. Rupali is now taking her law education and would like to do something good for the society.
Our second participant Sunita was born and raised in Beed village of Maharashtra state and her parents and siblings work a s daily wagers in her village. In 2018 Sunita met one of our preschool teachers, Sunita Londe who introduced her to Mumbai Smiles Foundation. After a series of interviews Sunita joined MSF as an assistant. She could thus support and help her husband with her new job. Things were falling in order, when her husband suddenly lost his job. Instead of spiralling into depression they decided to buy their own Auto rickshaw by taking a loan and be self-sufficient.
Since the last two years Sunita's husband has been driving an auto rickshaw for a living while Sunita continued working with MSFs new project called Livelihood. She now manages her own preschool under the guidance of MSF. Sunita has one daughter and one son. Her daughter was also a part of the MSF family as she completed her preschool years in our preschools. Her son is studying in Kendriya Vidyalaya in IIT, Powai campus. Both the kids are interested in studying and want to become independent.
Sunita is a happy mother and is proud to see her children's progress. Though she wants to study further she thinks that it will hamper the progress of her children and she wants to focus more on their life now. Although she has accepted her life in Mumbai and has a loving and supporting family, somewhere deep in her heart she always longs to move back to her village one day.
We have already sent these beautiful masks and now are eager to listen from our donors. Hope they love it an shower their love on us like always.
Comentarios