Blog
Celebrating the world mental health day

On October 10, we celebrated World Mental Health Day in a special way
The objective of Mumbai Smiles during the day was none other than to support the proposal of the World Health Organization "Making mental health and well-being for all people, a global priority". With this in mind, we organized a series of activities for female survivors of human trafficking, who live in our Udaan shelter home. The theme chosen as the center of interest of the day, was:
"Healthy food and healthy minds for a better future". The team's psychologist, Karuna and the head of the house, Smita, along with the rest of the team worked hard to define a good plan for the whole day.
Mental health is a central axis of the lines that we develop in the Udaan shelter, for this reason, we wanted to organize a special day, which will help us show its members, and how they have travelled the path of successes. Feeling safe and in a space of trust, the women who live in the center have begun to heal their wounds and as we usually show you, they are learning to develop different skills that will allow them to have an occupation in the future. Craft workshops to make roses and candles; beauty workshops; sewing workshops; cooking workshops; yoga and individual and group therapy sessions mark the daily life of the house, along with the tasks that it entails.
Last Monday each of these brave and talented women showed something special of what they had learned during these months. But not only that, they had to do it in a genuine way, that it came from the heart, to show their feelings towards themselves and towards the women with whom they share experiences, emotions and with whom they grow day by day in autonomy and confidence.
Latika, Lalita and Gita love to cook and want to start a food business in the future. So they did not hesitate to prepare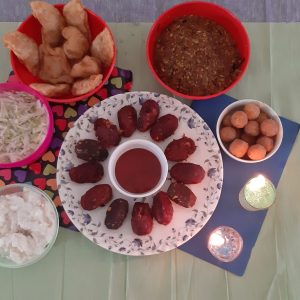 some delicious and healthy dishes, in order to explain the importance of maintaining a healthy diet.
Lalita would also like to be a beautician and together with Jyoti, they demonstrated their skills in aesthetics and hairdressing. They dressed and prepared their companions who could not be more beautiful and elegant with beautiful sarees!
Smita, daughter of a trafficked and sexually exploited woman, wanted to share how the experience of being in Udaan had impacted her life and she told us: "In Kamathipura my life was controlled by my family. Later my life would have been controlled by my husband and then by my children. After my arrival in Udaan I have realized that I can make decisions in my life. I can focus on my career and my life. I believe that every girl and woman has the right to design their own life and their families should respect that. Here, I feel free. I miss my family a lot, my mother especially, but first I have to think about my career to change my future and that of my family. Thanks to Mumbai Smiles, for this great help".
It was a very festive and emotional day, in which to become aware of the changes achieved and the importance of being well. Confidence and well-being was reflected in the faces of these women who leave behind a dark past and look to a future, full of color.
Comentarios