Blog
Be Strong to face any challenges in Your Life
Today we are going to meet one more team member who is associated with Mumbai Smiles for more than 10 years and since then has been a part of its every success story. She says be strong enough and ready to face any challenged in your life. Let's meet Chandrakala Suryavanshi, Field Coordinator for the Preschool project.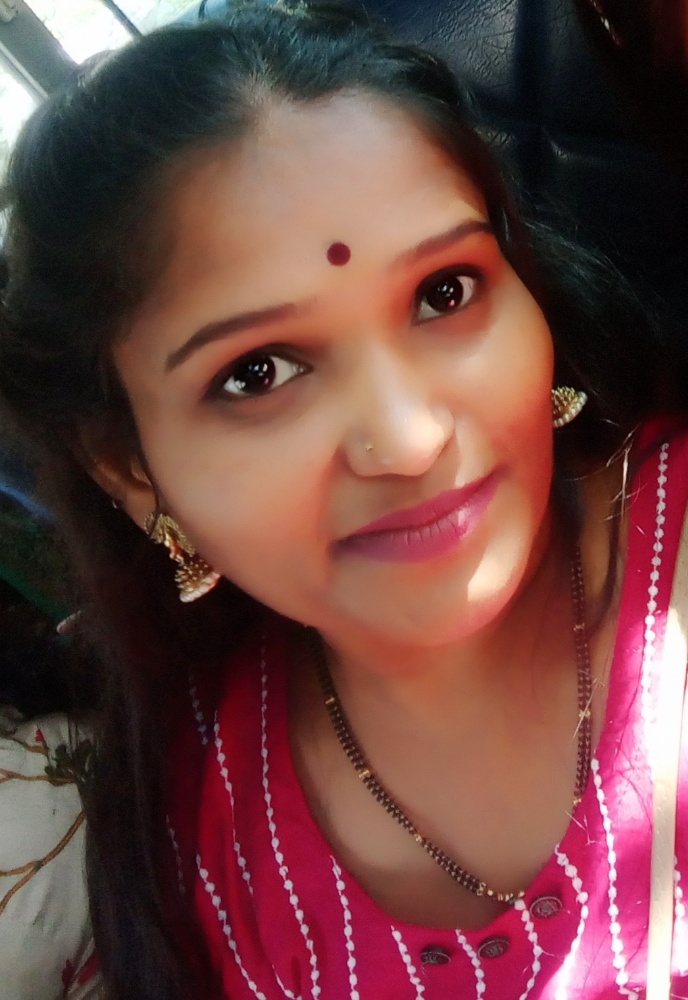 Chandrakala was raised in Sangharsh Nagar locality in Mumbai along with her two sisters and two brothers. Her father is a house contractor and her mother is a homemaker. Although her parents are not well educated, they always encouraged their children to pursue good education and offered the required support. Chandrakala completed her was able to complete her graduation from Tilak Maharashtra Vidyapith staying in a hostel far from her family in KharGhar. She loves tending to her two beautiful children and enjoys drawing, singing songs, reading books. Today she wants to share her journey with Mumbai Smiles over the years. Let's hear her out in her own words.
Question: How do you know Mumbai Smiles and since when are you working with Mumbai Smiles?
Chandrakala: I was always interested in teaching. I feel that we should educate each child so that the child can grow into a good person and can change the world positively. With the same thought on my mind, I was running private classes on a small scale for the children in my locality. In 2010, Mumbai Smiles team was conducting a survey and looking for interested teachers who can teach in their schools which they were planning to open in our community. It was an opportunity for me and without thinking much about remuneration; I joined as a preschool teacher in one of their preschools. Since then I am working in the Preschool team and participating in all the activities. Later, in 2013, after clearing interview rounds, Mumbai Smiles hired me as a Field Coordinator in their preschool. Currently, I am working in the preschools for VHT (Victims of Human Trafficking) children.
What changes have you seen in the communities and in you as an individual since you have started working

with Mumbai Smiles?
Chandrakala: When the Mumbai Smiles team approached us in Sangharsh Nagar community in 2010, people were unaware about their basic rights. Parents were reluctant about sending their children to schools regularly. Mumbai Smiles team has changed this scenario and helped changed parents perspective about education, so much so that parents, who used to ignore us earlier, now look forward to new admissions.
When the communities were changing, I have seen a very positive change in me as an individual. I have completed my education from girl's school and Girls College. I was very shy in public events and had stage fright. Mumbai Smiles encouraged me at every step and gave me opportunities that made me face my fears and thus grow as a person. During these 10 years I have also completed my MSW (Master in Social Work) degree curriculum successfully.
How did the COVID19 outbreak impact MSF projects/ communities and your life? What was the role of Mumbai Smiles in this time?
Chandrakala: COVID19 lockdown was a tough time for all our beneficiaries. VHT beneficiaries from Kamathipura with whom I was working were rendered homeless or had to move from their rental places due to the lack of work and opportunities. Roadside families were going through the worst. Many of them were rag pickers, daily wagers who lost their jobs and daily earnings. Some women and Children were also the victims of Domestic Violence.
We, at Mumbai Smiles were there for our beneficiaries and provided them with food grains, masks and sanitizers as per their need. Many of our beneficiaries were going through mental health problems. All our team members, including our teachers, Field Coordinators were regularly reaching out to all our parents and children telephonically. Our teachers were conducting online classes so that children do not have to miss on education and learning.
Post lockdown we are still supporting with food grains and online education to all our beneficiaries. Our Smiling Bus is visiting each community and providing medical facilities to our children and their families. Under awareness activity we are distributing COVID19 awareness pamphlets and imparting sessions in our project centers.
On a personal front my husband is a lawyer but due to the COVID19 lockdown there was no income from his side. However, Mumbai Smiles supported us by giving us our monthly salary on time and we could survive through the crisis. My children could continue their education as well.
What is your message for our viewers?
Chandrakala: We have to be positive towards our life. Problems such as natural disasters can occur at any time in life, so you should always be ready to handle the situation. You have to make yourself strong and ready to face this situation and to change your life accordingly.
Comentarios