Blog
Akhil Shinde and his struggle as a kid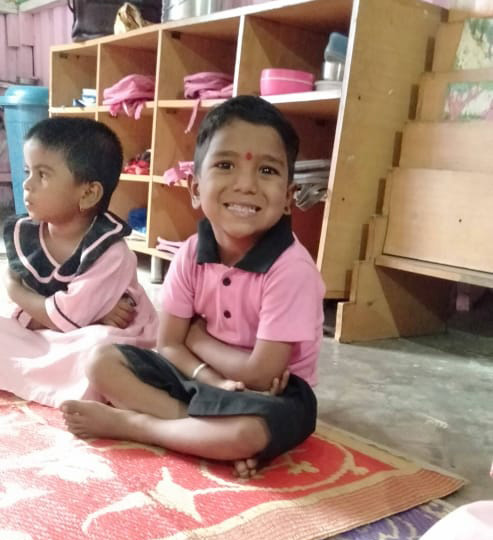 After four months into the Covid-19 lockdown across the country when people were hoping to get back to some "new normal", hoping to get some work to support their families, there was still a series of crises awaiting Akhil Shinde and his family.
This is the story of Akhil Shinde, a 4 year old student studying in one of the Ccheda Nagar preschools run by Mumbai Smiles Foundation for two years. He has an elder sister Bhagyashree (read her story here), who was the first one to start attending our preschool from their family. Bhagyashree was staying in the Ccheda Nagar community with her mother's sister and Akhil was staying with his parents in their native place in Nanded, Vidarbha. The parents themselves had barely received education only till 5th and 7 th and hence were very keen about the education of their kids. They saw Bhagyashree's inclination towards studies and were impressed by the teaching methods adopted by Mumbai Smiles. Therefore, they decided to get Akhil enrolled in the same preschool and for the same reason they also migrated from Nanded to Mumbai in the hope of a better and brighter future.
Akhil started attending our preschool along with his sister. Both the kids were very sharp and grasping everything being taught to them in the classroom. Soon Akhil too was one of the brightest students in the class like his sister. The parents were also planning on sending Bhagyashree and Akhil to an English medium school after completing the curriculum with us. The family were planning their bright future in Mumbai.
However, the Covid-19 pandemic hit their future dreams. The landlord demanded the rent which they were unable to pay due to the lack of job opportunities in the lockdown situation. Akhil's father was a daily wager and used to go out looking for some work every day. They tried pushing through the days for almost two months. However, eventually, they had to leave the rented place and move to their native place in Nanded.
Since April we have been conducting online preschool for all our beneficiaries. Fortunately, Akhil has been attending classes from Nanded. He has never missed a single session even after moving back to Nanded with his family. Things had only begun to fall in place for Akhil, when the Shinde family were struck with another unforeseen calamity with Akhil being diagnosed with a critical illness.

Another obstacle in Akhil's life
Over the last couple of days, Akhil had been complaining of a headache and also had a fever. His parents who were already jobless and were living hand to mouth were disturbed by sensing a difficult situation. They visited many local hospitals and conducted many tests. In the beginning, the doctor speculated these symptoms to be that of typhoid but on getting a negative test for typhoid, they recommended a computed tomography (CT) scan. Our preschool teachers had been in regular contact with all our beneficiaries to know about their whereabouts and to take updates of their kids, however, Akhil's parents did not mention anything about his illness and continued visiting different private hospitals. After spending lots of money on different medicines and blood tests, Akhil was diagnosed with a Tuberculous granuloma. He has a tumour in his head. The doctors recommended a 9 month long medicinal course and suggested that Akhil should rest and should not take stress.
By sensing discomfort in Akhil's mom's voice our teachers insisted them to share more details. It was only then that the parents opened up to share about Akhil's condition and the challenges they were undergoing. Our teachers who take care in the classrooms are like a mother to the preschool children and they were in tears after watching Akhil's pictures sleeping on the hospital bed with saline cords. Due to the side effects of the heavy dosage Akhil has been feeling very weak and has been finding it difficult to open his eyes since a week.
On receiving all the information from the preschool team and Akhil's parents, we decided to accept this as a health case under our Health department. Now, Mumbai Smiles's Health department is taking follow-up of Akhil and is in contact with his parents. We also helped Akhil's parents with their hospital bills and expenses.
Akhil, who was a very enthusiastic, sharp and joyful child, has been missing school during this difficult period. Now for the next 9 months he will complete his medication course and take good rest.
We hope to see Akhil soon in our online classes and in Mumbai once the situation is safe for his parents to come back and to be able to find some work.
Comentarios