Blog
The World Literacy Day
"The highest education is that which does not merely give us information but makes our life in harmony with all existence." – Rabindranath Tagore
"The function of education is to teach one to think critically. Intelligence plus character, that is the goal of true education." – Martin Luther King Jr.
With its inception in October 1966, the world shall celebrate its 51st Literacy day this year. We at Mumbai Smiles Foundation believe that literacy is not a luxury, but rather, a matter of dignity and basic rights. Embracing learning and imbibing good learning skills and working hard towards self-progress can create good students and eventually a good human being because education is not only learning and knowing information but it's a knowledge that we should spread from one generation to another.
On the occasion of World Literacy Day, today September 8th, we feel proud to share a story of our preschool teacher who not only overcame her difficulties and succeeded in her life but also vowed to help children who dream to become a good and successful human being.
Vaishali Bagal, a 35 year old preschool assistant teacher is working with us for 5 years in one of our preschools situated in Vanicha Pada, Aarey Colony.
Vaishali was born and raised with her two sisters and a brother in the slums of Marol Pipeline, Andheri. She belonged to an orthodox Indian family like many other Indian families. Being parents to three daughters, they were worried for for their education and most importantly for their marriages.
Vaishali is the eldest amongst the three sisters and her brother is the youngest among them. Due to the lack of financial support from her parents, Vaishali could not complete her education after 9th grade. At the age of 18 years she got married and immediately her younger sister, apparently who was not even an adult, had to get married so that her parents could feel relieved with having gotten two of their daughters married and hopefully settled.
In India, in many of the conservative families, a girl's future is dependent on her in-laws and husbands. Luckily, Vaishali's in-laws were supportive and were ready to let the couple get settled in Mumbai after their marriage. Therefore, for the last 17 years Vashali and her husband with their two children have been living with Vaishali's mother in the slums of Marol pipeline.
In the beginning, Vashali tried working in some companies as a daily wager but after having kids she was unable to manage both work and house and hence, she decided to be a homemaker. Later, in 2015 she got to know about Mumbai Smiles Foundation who was running their preschools in her locality. After clearing interviews successfully, Vaishali joined as an assistant in the preschool.
While attending internal team meetings and educational training offered by Mumbai Smiles, she realised the importance of education and literacy, which inspired her to pursue her Bachelors Degree. For over five years she studied hard and completed her graduation from the Yashvantrao Open University while working with Mumbai Smiles. She is thankful to her mentor, Vikas Gaikwad, Project Manager, Preschool project for motivating her along with other teachers by making them cognizant of the need for further education and for their self-development.
Vaishali says, "When I joined MSF I was not confident enough to take my decisions, I was not smart to face small problems. Now, I am interested in learning new things and would love to do computer courses and would never stop learning."
Teachers like Vashli Bagal inspire other teachers who have gone through the same difficulties and wish to stand again on their feet. We are proud to have such teachers in our Mumbai Smiles Family.
We also take the chance to celebrate the recent Teachers Day in India by recognizing the labour of all teachers who tirelessly work for children and adults. Thank you for your commitment!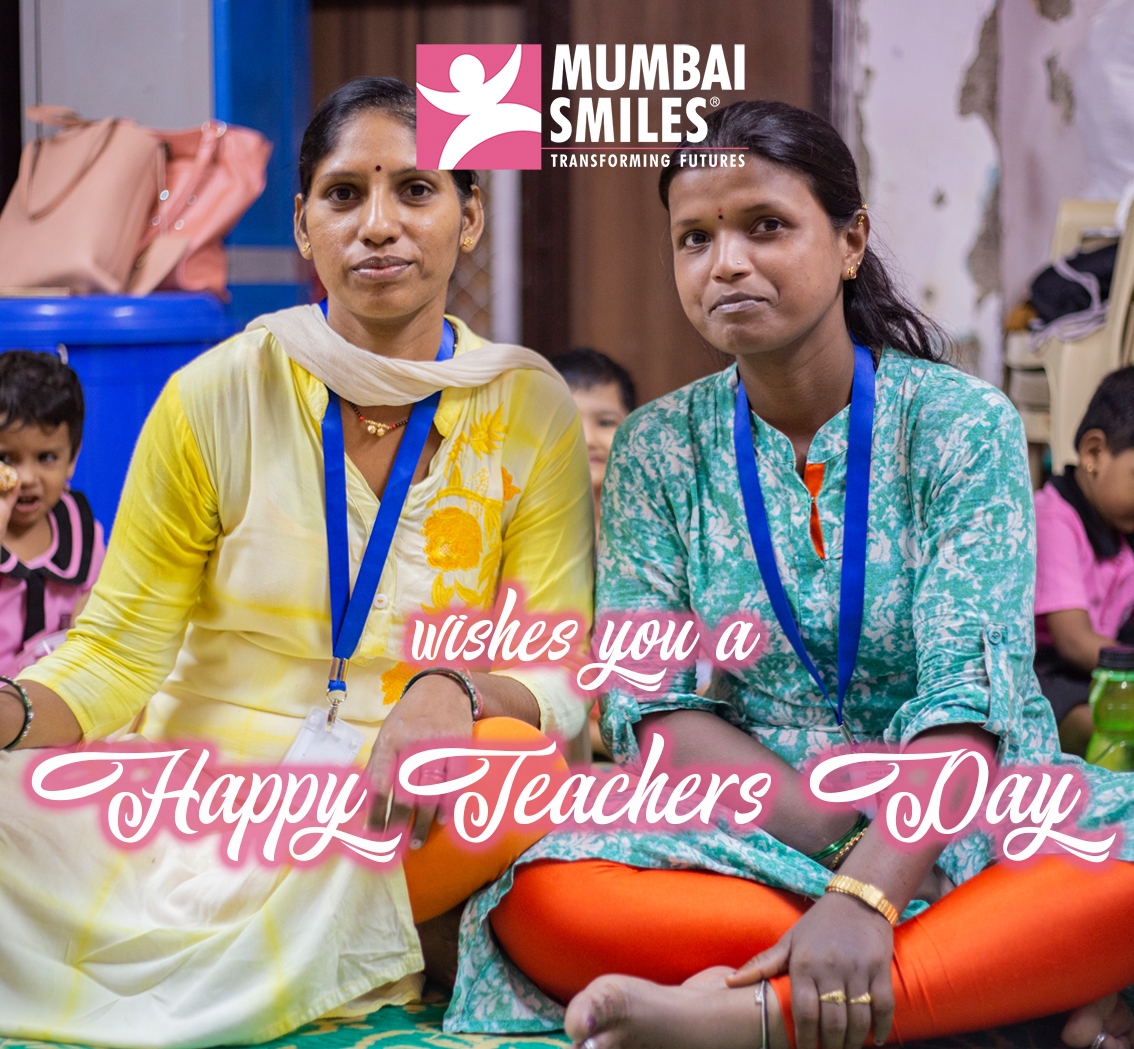 Comentarios