Blog
Jyoti's Determination Took Her a Long Way
Jyoti (Name changed) was living a very ordinary life with her 4 sisters and a brother in a small village near the city of Kolkata. Her parents were struggling to make ends meet and were finding it extremely challenging to raise their children and as a result, Jyoti was married to an unsuitable groom at an early age, much before she could understand the meaning of marriage.
This is a harsh reality and resonates with every girl who lives in small villages where there is a lack of awareness about the importance of education and human rights.  We are in the 21st century and there are families even today who think that a girl child is a burden for the family and that marriage is the only way out to get rid of their responsibilities. Jyoti was one such victim.
With an early marriage and an unsupportive husband, Jyoti's life was more difficult and domestic violence was an everyday story for her.
With the help of her friend, Jyoti decided to look for work. Her friend promised her a good job in Kolkata city. Jyoti was happy that she could earn her own money and would be independent for once in her life. However her dream did not last long. Her friend had cheated her. She had left her with a lady telling that she would return after a few days but never showed up ever again. The lady was a pimp and Jyoti's friend had sold her to the Human Traffickers in exchange for some money.
Jyoti tried escaping and raising her voice but it was too late. At the age of 16, Jyoti was unable to save herself. After a few days she was sent  to Kamathipura red light area in Mumbai.  Since then Jyoti was suffering every day and was forced to be victimized at every step. During these years she gave birth and raised her husband's girl child.
When Jyoti's family got to know Jyoti's story, they turned their backs on her initially but they could not deny the fact that they were in need of money. Therefore, Jyoti was only allowed to send money to her parents but wasn't allowed to meet them or their relatives. Parents were worried for their other daughters thinking that after knowing this no one would have come forth to marry them. This was very disturbing for Jyoti, however, that was the only source to stay connected to her family. Her husband never called her since she left his house oblivious of the fact that she was pregnant and carrying his baby.
When someone at a young age, as early as at 15 years gets forced and becomes victimized to human trafficking, the mental trauma associated has a very deep impact on their mind and often spiral into state of trauma from where it is very difficult to rise up again. They lose their confidence and credibility of facing the reality and standing against it. However, Jyoti was determined to get out of her forced life. During these years she was living with her partner who was a good man and now she was again pregnant with his child. It is very rare that their partners support them to escape when they are dependent financially on them but, we can say that Jyoti was one of the luckiest.
For a few years, Jyoti was working with a local NGO in Mumbai and was participating in their activities. This NGO helped Jyoti when she had to go through one more tragic incidence. Her daughter was raped at the tender age of 5 years. However, with the help of CWC (Child Welfare Committee) her daughter was shifted to a shelter home in Dongri and now she is in safe hands.
Over the last 2 years, our Mumbai Smiles team is actively working for VHT (Victims of Human Trafficking) women and their children in Kamathipura. We have been conducting Butterfly and LSE (Life Skills Empowerment) projects for them, to encourage them to accept the past and work on the better future. Jyoti was also one of the participants in candle making sessions when she first got herself introduced to our work and our team. Since then she has been regularly contacting us to look for a new opportunity which can get her out of Kamathipura. She showed an interest in moving out of Kamathipura to a new home created for the survivors of Human Trafficking outside Mumbai city by Mumbai Smiles.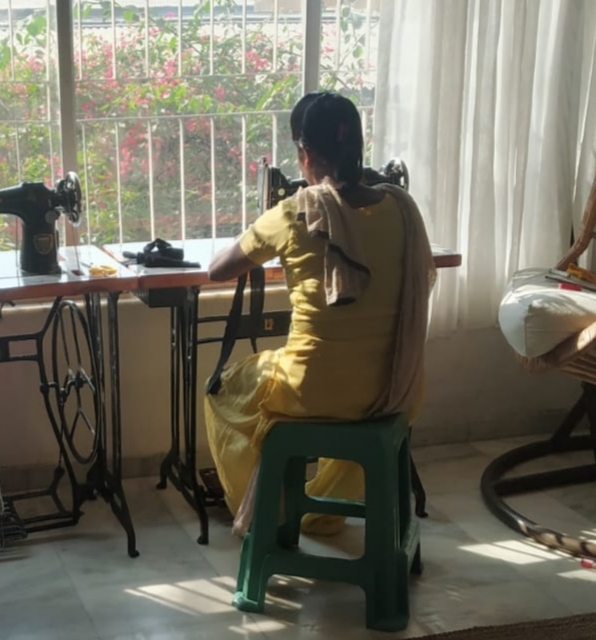 Here, in her new home, Jyoti would be part of the Winds of Freedom (WOF) team now. She would participate in all the activities conducted by the team and would be an employee of Mumbai Smiles.  Currently, she is acquiring tailoring skills under the guidance of a professional tailor.
Though it was Jyoti's own decision to move out with Mumbai Smiles, initially, she was very anxious and seemed to be unsure of her decision. However, during the last 15 days she seems to be comfortable in her new home and seems to be adjusting well with other members of her new home.
We are proud of her decision and happy to welcome her to our team. We wish her good health and lots of luck. Soon we will write more stories about our WOF team progress and look forward to welcoming a new member to our Mumbai Smiles Family.
Comentarios