Blog
Help to escape the cruelty of human trafficking
This story is similar to others that we have already told you. But it is also true for many others about whom we have NOT told you before, with one difference: the women in the story have not had the opportunity to have a family that loves them and to come across an organization that helps them recover their lives. Therefore, although many stories are similar, what differentiates them is the ending. Or rather, in this story there is no end, there is a beginning, there is hope. Other women unfortunately find no escape from trafficking and sexual exploitation: with your help we want many more women to be able to prevent and escape the cruelty of trafficking.
Jahanara got married at 16, her husband worked in an ice cream factory. Despite living in a very poor village in Bangladesh, and with very few resources, they had a relatively peaceful life, until in 2003, when Babu, her husband, suffered an accident. Although he survived, he could no longer work. At that time they decided to move in with his family, and she worked cleaning other houses, but in 2009 a baby arrived and financially the situation got much worse.
After ten years of struggling to support the whole family, in 2020 Jahanara contacted an old neighbor who had gone to live in Saudi Arabia, where she earned a lot of money. In desperation, she asked this woman for help, who gave her a contact from the company that had hired her, in the capital. In the company she was offered a job taking care of children and a salary of 177 euros in Saudi Arabia. She sold everything and took out three loans to raise the money for the trip and on July 7, 2021, she Jahanara left for Saudi Arabia. After doing a 7-day quarantine, she arrived at the house where she had to work. She had to take care of three children and take care of the house.
Three months later, her boss told her that due to COVID-19 she was not going to receive any salary until everything returned to normal. But how was she going to survive and most importantly, send money home, pay off the loans? Considering her complaints, he began to torture her.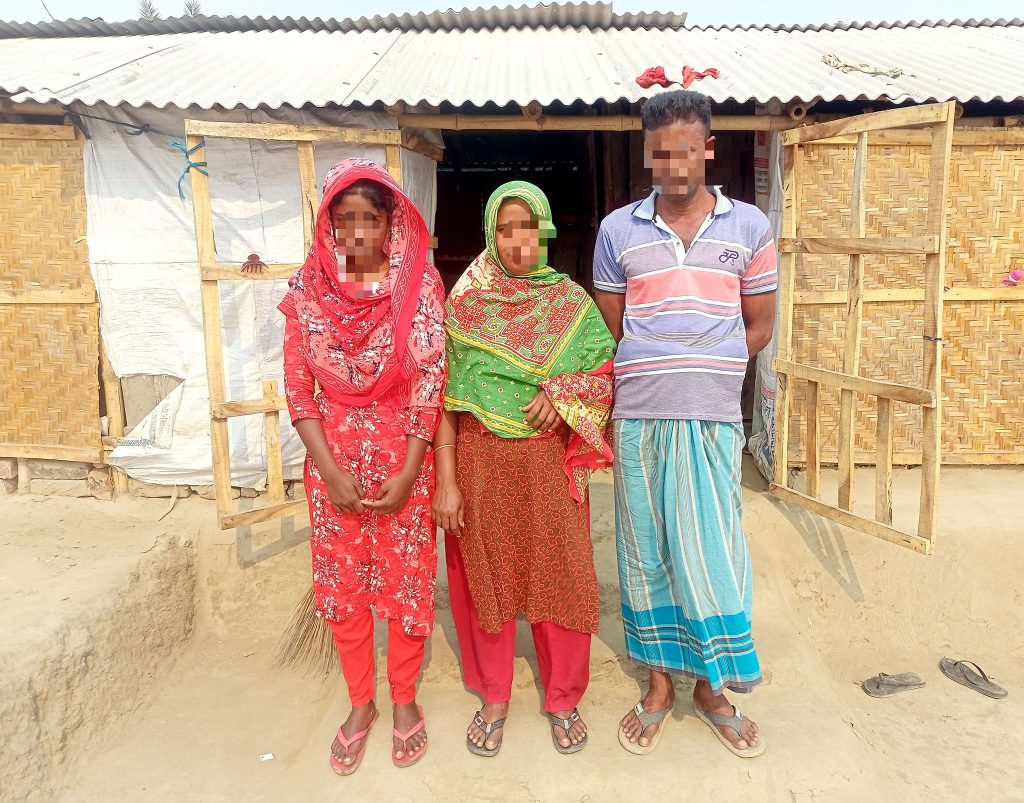 Jahanara said she wanted to leave and so her boss locked her up for two days. When he released her and found out that Jahanara tried to contact the embassy, even though it seemed impossible, everything got worse. She was locked up for two months and the violence escalated.
Babu, worried, began to insist with the company that something was wrong. But they did not listen to him. And he got the answer from Jahanara's boss that he had COVID. But he did not give up and contacted the company and the authorities again, until the company told him that they would do everything possible to bring her back. But they asked her for more money. More than triple what she earned, that plus the debts was impossible.
Desperate Babu showed up with a little more than 200 euros, and begged. The company agreed on the condition that they would not sue them and that they would hand over all the documentation they had. Babu agreed, what else could he do
On February 15, 2022 Jahanara returned in a devastated condition. They also had a lot of debts. Despite the relief of being all together, her life was a huge problem. A few weeks after returning, the organization Agrogoti Sangstha, with whom we work in the area, became aware of the case, and we started working with Jahanara and her family. The first thing was to offer her hospital care and we began to study the legal complaint of the case, so that she received compensation for what happened with her. This woman, with serious physical and emotional damage, is still recovering and the case is still open. There is a long way to go, but when she will be in a better condition, she will participate in a course that will allow her to orient herself professionally and take care of her and her family.
For Jahanara there is hope,  We want to create hope for many lives
Comentarios