Blog
Asiya: the burden of a decision
Asiya is 21 years old and carrying the burden of a decision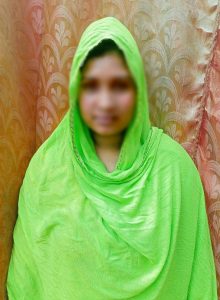 She was born in a small village in the Satkhira district, in Bangladesh, in a family with very few basic resources, but her parents accompanied her as much as they could so that she could study and that is how she could get an admission in the Satjira University. But it was at that moment that she fell in love with Emir, a young truck driver from a neighboring town and that was when she unknowingly made one of the worst decisions of her life: they ran away and got married.
At first, Emir's family did not accept them, but Asiya, became pregnant and in in the hopes to have a grandson, they welcomed them into their house.
Those months were the best. But Asiya gave birth to a girl child, Ratna. There began the worst nightmare. The whole family, father-in-law, mother-in-law, sister-in-law and even her husband began to mistreat her. They blamed her for not having a boy child. All the household work fell on Asiya, taking care of the girl while no one took care of feeding her. The environment was unsustainable. Then came the threats of divorce and the physical attacks.
Soon her husband actually got remarried and Asiya was kicked out of the house. It was then that Asiya rebelled, but she only got a heavy beating and public ridicule. Some neighbors helped her and took her and her daughter to her parents' house.
Asiya was in a deplorable physical, mental and economic situation, which is why she began to attend offers of great economic promises in India. And luckily, it was at this point that together with Agrogoti Sangstha, the organization we work with in Bangladesh, we learned about her case.
In recent weeks we have been able to talk to her: explain the risks of emigrating from her native town without following her legal precepts. The dangers of falling into the hands of human trafficking networks. She is now aware of all this. Therefore, we are going to accompany her in the process of rebuilding her life in the place where she lives, through the occupational training programs that we promote. It won't be easy but we are going to do our best so that she can learn profession skills and be self-sufficient with us and other bravest women who fight to LIVE.
Comentarios