Blog
Smiles through Their Lenses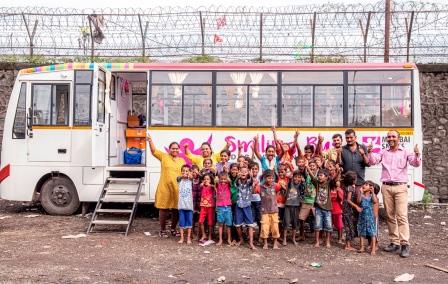 Smiling Bus is one of those projects in which our team has taken lots of efforts to reach out to those children who are deprived of their right to education, who cannot pursue their dream of learning because of their family responsibilities.
When you see smiles and cheerful faces, you forget all bad memories and negative thoughts that tried to stop you from pursuing your goals and achieving your dreams. It has happened many a times with our team members when they have started any challenging work, but at the end when we receive appreciation from all those for whom our work means a lot, we get encouraged to take more efforts and restore our faith and determination.
When we inaugurated Smiling Bus last October we were hoping to create more smiles by reaching out as many children as we could.
Although for us it was an important project as any other but for these children we were the only ray of hope. These children used to wait for their teachers, ready to participate in the activities being conducted in the bus even in the scorching heat of summer.
Unfortunately, ever since the Covid-19 lockdown has been imposed, we have not been able to meet these kids in the bus. Our LSE team is conducting online classes with our students and we would be conducting awareness activities through the year. Though we have ensured they are able to attend online classes and that they are able to communicate with their teachers every week, they certainly miss the Smiling Bus.
Some students like Durga have shared their thoughts and sent their messages to our team. Today we would like to share one more video which was made by one of our friends and a volunteer, Cindy. The music and glimpses of those days that have been captured in this mesmerising video has made us nostalgic and we are eager to meet our students.
For those who have visited our Smiling Bus project there is a good news. For last few months our beloved bus was getting refurbished to adapt it to the current needs. From last week it is back to the streets. These days the aim would be to offer quality information on COVID-19, and also as a mobile medical reference center for attending issues other than Covid-19.
Comentarios