Blog
The Silent Sufferer: Ketan
As Covid-19 started spreading its wings over the city of Mumbai in the month of March, we at Mumbai Smiles were with our beneficiaries to offer them the much needed support in these difficult times. Not only did we distribute food grains and sanitization products but also stood with our beneficiaries by providing mental health support. Our mental health team was available a phone call away to listen to our beneficiaries offering them a chance to share their woes and thus making them feel comfortable. Often, food or money do not resolve the real problems but someone's time and words are more effective and helpful.
During this pandemic we encountered some of the most touching and impactful stories of our beneficiaries. This is a story of Ketan (it's not his real name), one of our LSE (Life Skills Empowerment) beneficiaries and a Victim of Human Trafficking living in the strangled lanes of Kamathipura.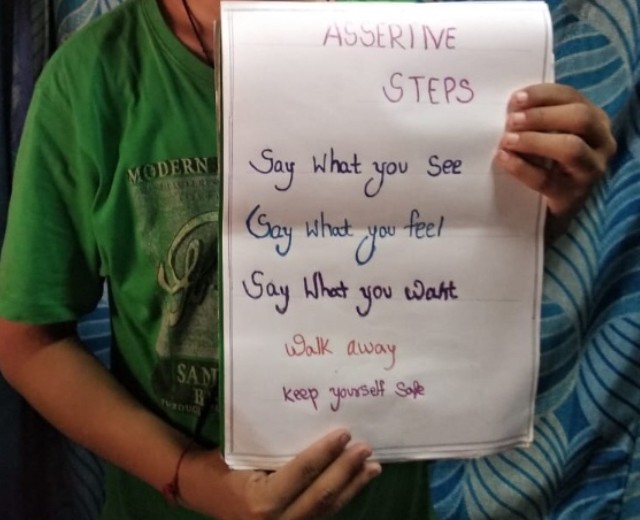 Ketan has been our beneficiary for two years. He is a slow learner since birth but in our LSE sessions he was being treated as normally with the other kids. He used to enjoy all the LSE sessions and especially used to like conversing with their dear teacher Prafullata, Field Coordinator, LSE. Prafullata is a great balance of a disciplined teacher and an understanding mother who not only shows patience to her students but also points out their mistakes whenever it is necessary. Ketan was more comfortable sharing his problems with Prafullata than any of the other classmates.
During the covid-19 pandemic we started conducting all our LSE sessions online. All the students were given particular timing for their respective classes. Ketan was one of the regular students attending all the classes. However, after a few classes Prafullata had noticed that Ketan is losing interest in the classes and is not participating with the same enthusiasm as earlier. When Prafullata spoke with Ketan's aunt  who is also his guardian, she gave her lame excuses which Prafullata  found hard to believe as she had known Ketan very well for a while and was sure those were not the reasons for Ketan's behavioural change. She knew that Ketan was a very good boy, who never disobeyed his aunty and never gave excuses for not working or studying. Ketan's aunty also informed us that Ketan was undergoing treatment for depression and the medication made him feel drowsy. Often, Ketan would end up sleeping for 16 to 17 hours each day and was also not able to help his aunt with household work. Learning of Ketan's story was very shocking for us.
Eventually, a decision was made by our Education team to take the help of counsellors to solve Ketan's problem.
During the first few counselling sessions we realised that Ketan was very afraid of his aunt and didn't want to speak in front of her. Therefore, we took the help of other students and made a comfortable environment where Ketan could speak to the team. These sessions unfolded the different tragic chapters of Ketan's life in front of us.
Ketan was born in Kathmandu but was brought to Mumbai by his aunt to stay with her in Kamathipura. His aunt had a tragic life too. Someone from their village lured her to Mumbai promising her of a job to do household work  and on arriving, sold her to one of the brothel owners in Kamathipura. Since then she has been living in Mumbai as a victim of Human trafficking  hiding her identity from her family.
When Ketan was 2 years old he had an accident hurting his head causing damaging internal organs and causing him to bleed  through his nose and ears. The impact was such that he was unable to speak till he was 6 years of age. As fate would have it, Ketan witnessed an ugly incident of domestic violence at home. His father who still stays in Kathmandu with his elder brother has a mental problem,  and one day in a fit of rage, he tried killing Ketan's mother with a hammer. Unfortunately a 6 year old Ketan was witness to the incident. After this incident his mother left his father and Ketan. The emotional impact was such that it helped Ketan regain his speech, however, left deep scars deep inside which were going to be difficult to heal. Both these incidents had an impact on Ketan's self-confidence and learning abilities and he was labelled a slow learner..
Ketan's aunt never gave him the respect of a child nor showered her love as an aunt. On the contrary, she always forced him into household work and running errands for neighbours such as getting groceries. She always insulted him in front of the other classmates or during school meetings which further affected his self-esteem.
While counselling Ketan, he told us that he was undergoing treatment for depression and the medicine required him to take lots of rest. However, his aunt used to hit him for small mistakes and would often force him to stay in the dark passages outside their homes as a punishment which further instilled a sense of great fear in him. He used to get nightmares and was very afraid of his aunt.
When we spoke to Ketan's aunt we realised that as she herself was a Victim of Human Trafficking, the Covid-19 lockdown affected her work due to which she could not pay the rent to her brothel owner. They were not allowed to step out of their houses to search for new work. As a result of which she was expressing her frustration on Ketan.
It was indeed a very difficult situation in which both, Ketan and his aunt were the victims of the situation which no one could change in a day or a month. As a counsellor we decided to take the same approach we take while teaching our students during our LSE sessions. We teach them how to cope with their real life and work on their personal growth.
Also, for their basic right which is a right of expression, if needed they have to raise their voice. Therefore, we helped Ketan understand that he should express his disagreement with his aunt when she hits him or shouts unnecessarily and only then would she possibly understand her fault and the trauma you have to endure. Also, we guided him on how to focus more on his education and self-confidence.
After a few months we could see a drastic change in Ketan. He was participating in all the sessions happily and with enthusiasm and was working hard on his self-confidence.  
It seems that the situation will still take a while for life to return to normalcy, however, our team is always there to provide necessary support to our students and beneficiaries.
Comentarios