Blog
Health before Wealth
Being healthy is one of our fundamental requirements; especially when it comes to young girls. There are so many areas of concern and awareness which need to be brought to notice that would help in instilling good, clean habits among adolescent girls. To make this happen, we hold Health Camps for our beneficiaries with Future Smiles (Life Skills Empowerment) project. One such camp was held on the 19th of August for 70 of our LSE beneficiaries, old and new. For this camp, we collaborated with Family Planning Association of India (FPAI).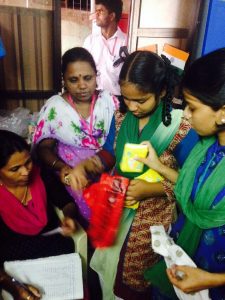 The event started off with Field Coordinator Mr.Pravin Birhade introducing the members of the FPAI organisations to the people present followed by an orientation on Mumbai Smiles, its projects and this health camp in particular. The girls were explained about the basics of health and hygiene which should be known by all, no compromise. Then the FPAI in collaboration with Mumbai Smiles conducted a Haemoglobin Test among the girls and those found with deficit were given medicine to improve the same. There was also a distribution of sanitary napkins and iron tablets which form the core of young girls' essentials.
Another important activity that took place was the individual and group counselling which covered many factors such as sexual and reproductive health. There was also an open forum question answer session which allowed the girls to get solutions to any of their queries. The beneficiaries were thankful for having gained this useful information. Although our LSE project covers guidance through this basic health and hygiene requisites but added information never harm anyone.
The members of the FPAI were also pleased with the response and said, "We feel honoured to be conducting this camp and the work Mumbai Smiles has put in towards the beneficiaries is also admirable". They were also impressed with the outward attitude among the girls while discussing sensitive topics which generally they shy away form. To conclude the event, the girls offered a vote of thanks to all the FPAI members who helped us make this a success. With great pride we wish to convey that Future Smiles project rapport in the community is good which is why parents, without hesitation are willing to enrol their girls in the programmes. We thank them for their continued faith in us and our work.
Comentarios