Blog
Preschools going beyond education—Zarim's story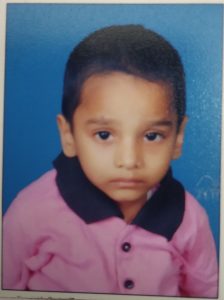 The Preschool Education Project is about much more than just education—it is one of the key channels for us to make important interventions in areas like easy childhood health, hygiene and nutrition. One case that highlights the importance of these interventions is that of Zarim Fatima Chaush.
Zarim was over 3 years old when he first came to our preschool in Khetwadi. His mother is a victim of human trafficking—a sex worker in Mumbai's red-light area of Kamathipura. He also has two older siblings. The family is living on the margins of society; health and nutrition are not given due attention because Zarim's mother is struggling to provide for her children.
When Zarim first started attending preschool, he weighed about 9 kg and was on the malnutrition scale. The Mumbai Smiles preschool teacher, teaching assistant and field coordinator reached out to Zarim's mother to sensitize her to his nutritional needs, vaccination, child care, etc. Zarim's mother revealed that she has been ill and weak since his birth and also that he has not responded as expected to medical treatment.
Realising the need for an affordable and accessible medical facility, Mumbai Smiles personnel made Zarim's mother aware of a government hospital in Sion which will give him the care he needs. Apart from this, his mother has also followed the advice given to her regarding his nutrition. Now Zarim is much healthier, happier and more active—a true example of how a little counselling and information given at the right time can help parents give their children a better childhood.
Comentarios