Blog
Jump2Justice impact on the ground—Varsha's story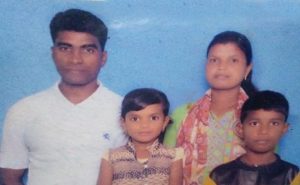 Often, though progressive laws benefitting underprivileged communities are passed by governments, the communities themselves are unaware of these laws and, consequently, cannot avail themselves of their benefits. The Jump2Justice project by Mumbai Smiles is focussed on ensuring that people in the slums of Mumbai are aware of laws pertaining to their welfare and can access those laws when required.
One of the major focus areas of the project is the revolutionary Right to Education (RTE), which entitles every Indian child between the ages of 6 and 14 years to free and compulsory education. However, even as the central and state governments do their best to implement this sweeping law, there are still large segments of the population that remain unaware of this law. Even if some of them are aware of it, they face institutional barriers when trying to access their rights under the law.
This is the story of Varsha Satyavan Kamble, mother to 5-year old Nisha who studies at a Mumbai Smiles preschool. A resident of Marol, Varsha had already attended awareness sessions on the Right to Education conducted by Jump2Justice. When her daughter reached the age for admission to a school, Varsha started the online admissions process for Nisha at a nearby school. However, even though her daughter's name appeared on the list of admissions under the RTE, Varsha was unable to complete the admissions process at the school because of lack of cooperation by the school administration.
At this stage, Varsha sought help from Mumbai Smiles and Jump2Justice in order to ensure that her daughter was not denied her rights. The representatives of the Jump2Justice project visited the school administration along with Varsha and helped her to present her case. After a few meetings, the administration assured Varsha that her daughter would indeed be granted admission into the school.
Here we can see two elements of intervention at work—firstly, the workshops that made Varsha aware of her child's rights under RTE, and secondly, the help she received from Jump2Justice in dealing with the school administration, which she may have been too intimidated to face on her own. Thus, the Jump2Justice project ensured that Varsha's case realised the actual potential of the RTE.
Comentarios