Blog
A survivor in the spotlight—Nayana's story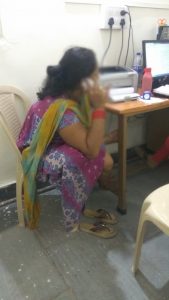 With our new community centre at Kamathipura, we are able to reach out to a large number of traumatised survivors of human trafficking, many of whom are making a living from sex work. The stories of how they landed up in Kamathipura's red-light area are often heart-wrenching. As a way of processing their trauma, many of them have taken to drugs and alcohol. Working with such survivors makes it clear how important it is for us to have a presence in this area, because many of them are unable to access any other avenues of care.
One story of survival comes from Nayana, a 35-year-old woman who is originally from West Bengal. Having been trafficked away from her home at the tender age of 12, she was pushed into the flesh trade and moved from brothel to brothel in Calcutta, Mumbai, Pune and Delhi. The mental and physical torture she underwent made her turn to alcohol as an escape. A relationship with a customer resulted in Nayana becoming pregnant. However, she was arrested during her pregnancy and spent a month in jail. After being released, she gave birth but was separated from her child by the brothel owner and was even denied permission to feed the child. Unable to take the ill-treatment, she fled to Kamathipura, where we encountered her.
Today, Nayana is living with the pain of separation from her child who remains in the custody of the brothel owner. She is dependent on alcohol even now. We hope that sharing her story with us helped to start the healing process. We will continue to work for the mental health of women like Nayana who desperately need our assistance.
Comentarios