Blog
Vitamin A Supplementation TOT Training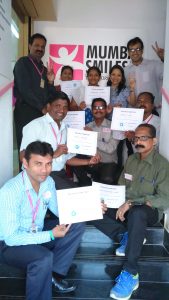 Taking into consideration the Balwadi children's health aspects, Mumbai Smiles organised a Vitamin A Supplementation Training of Trainers (TOT) session for the Balwadi Project team. Once this is done, the team disseminates that information to all of the 30 teachers and assistances in all of the 30 Balwadis.
This training was provided by Vitamin Angel organisation covering theory and practical. The team was also provided training material and certificates. The training was conducted by Dr. Shilpa Vinod Bhatte (Senior Program Advisor).
Once the team was trained, another session was organised on the 21st of October wherein the information was passed onto the teachers and the assistants. Vitamin Angels focuses on reduction of child mortality by administering Vitamin A for children under 5 years of age and promotion of physical and cognitive development among infants and young children 6-59 months by connecting them with essential micronutrients (commonly known as multivitamins) –through conventional and innovative distribution systems. The Balwadi Project team was taught the protocol and techniques for the administration of Vitamin A among children.
An estimated 190 million children under five suffer from vitamin A deficiency (VAD), a major underlying cause of child mortality. By making people aware, we can reduce under-five child mortality by about 24% in at-risk populations simply by reaching out to children with the necessary vitamin A.
Comentarios